Zieba Builders Receives GuildMaster Award for Third Consecutive Year
Zieba Builders of Long Beach, CA has received a 2017 Guildmaster Award from GuildQuality for demonstrating exceptional customer service within the residential construction industry.
Since 2005, GuildQuality, an Atlanta-based third-party customer satisfaction software surveying company, has powered the Guildmaster Award to recognize and celebrate home building, remodeling, and contracting professionals demonstrating the highest level of customer service within the U.S. and Canada.
Out of hundreds of applicants, Zieba Builders is one of the top design/build remodeling firms recognized by GuildQuality for consistently delivering superior customer care.
In determining which businesses received the 2017 Guildmaster Award, GuildQuality reviewed thousands of survey responses submitted by customers of Guildmaster candidates and considered two primary metrics for each candidate: the percentage of customers stating they would recommend the business to friend and the percentage of customers who responded.
Zieba Builders achieved a recommendation rate of 97% from their customers surveyed by GuildQuality.
"I am extremely proud of the Zieba team for earning the GuildMaster award for the third consecutive year. We consider it a special honor since recognition is based solely on our client's willingness to refer us and we'd like to extend our thanks to them for taking the time to provide such valuable input on their remodeling experience," says Joe Zieba, President of Zieba Builders.
For more on the 2017 Guildmaster Award and qualifications, visit www.guildquality.com/guildmaster/.
About Zieba Builders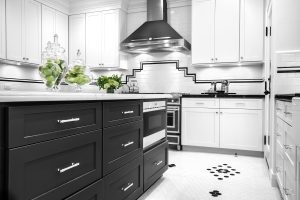 Zieba Builders is an award-winning Design/Build remodeling company based in the Long Beach Arts District serving the communities of Long Beach, Orange County, and the Palos Verdes Peninsula. Established in 1988, the company's commitment to providing clients with the highest quality construction and innovative design along with their commitment to the highest level of customer satisfaction is reflected in their 97% recommendation rating with Guild Quality, the nation's leading Customer Satisfaction Survey organization for the building industry.
About GuildQuality
Over 2,300 residential construction professionals rely on GuildQuality's customer satisfaction surveying software to help them deliver exceptional customer service and get the recognition they deserve for their commitment to quality. For more information about GuildQuality, visit www.guildquality.com.