Top Design Trend of 2016: Bold Geometric Patterns
Recently, we spent a few days walking the floors at the International Builder Show in Las Vegas looking for inspiration and new products to bring back to our design team. One trend making a big impact on tile and flooring design is bold geometric patterns; from clean, traditional shapes in black and white to intricate patterns in a complete rainbow of colors. We expect to see geometrics as an important design element for remodeling in the coming years, especially in kitchens and baths.
One place geometric patterns can make a bold statement is in tile walls. Design forward tile manufacturers are taking the trend further by creating three-dimensional designs, incorporating metal for shine, and hand scraping for texture.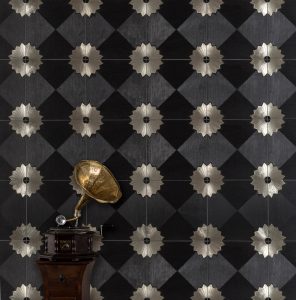 These innovative and stunning tiles can be used to create visual interest in a kitchen backsplash, a shower tile design, or as a decorative wall in an outdoor living space.
In a recent remodel of a contemporary beachfront home, we created a beautiful geometric statement wall in the master bathroom. The soft green, geometric pattern brings an organic and natural complement to the rich wood cabinetry and tub surround.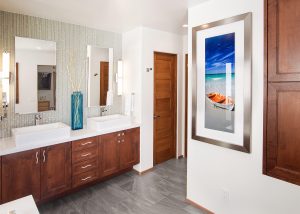 Your walls aren't the only place where you can bring geometric influence. The trend is also popular in flooring and we saw beautiful examples of it in parquet wood and tile. Hardwood or vinyl flooring can be laid in chevron and herringbone patterns to create a classic yet modern look in hallways, living and entertaining areas. If you envision bathroom, kitchen, or outdoor spaces with a vintage or European aesthetic, Moroccan tiles can be selected in every imaginable shade and all sorts of geometric patterns.
Encaustic tiles, which have been around for hundreds of years are making a big comeback. These handcrafted patterned tiles are made by pouring each color into a mold, which creates an inlaid pattern. Zieba Builders recently completed a bathroom remodel in a Traditional Spanish Bungalow where we used an encaustic tile with a medallion pattern in black and taupe.