Our Favorites from Dwell on Design Event in Los Angeles
What fun it was to attend Dwell on Design in Los Angeles last month, one of the largest design events on the West Coast. Featured were the latest home furnishings, products, innovative technologies, and more. Here is what the Zieba team encountered, loved, and coveted.
These hand-crafted Fireclay Tiles can be a definite wow-factor in your kitchen or bathroom. Designed and produced in San Francisco, they can easily be customized for each client. From earthy southwestern styles to retro 70's mod, you will find a pattern that speaks to you. We especially like the idea of using these on the floor or staircase to liven-up a room. Fireclay Tiles sells directly, meaning quicker delivery times and easier dealings- that's music to our ears!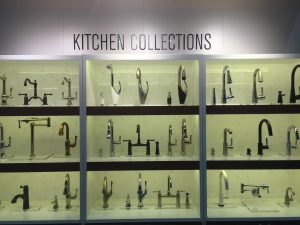 With so many unique, modern, and classic faucets to choose from, it is hard to choose one Brizo design as our favorite. Perhaps the modern trio in the top middle window (the Vuelo design), or classic look of the old school Pot Filler to your bottom right.
Faucet browsing has never been so fun with this Andy Warhol-inspired backdrop. Franz Viegener's designs are modern, stylish, and sleek adding a little extra class to your home.
Designer Drains are jewelry for your shower. We love this idea of getting down to the last detail by adding an extra special touch in an unexpected place – especially one where you spend so much time. Designer Drains had a beautiful display of customizable drain options that have us dreaming of drains daily.
We always enjoy seeing what Dwell has to offer and can't wait for the next event! If you are inspired by any of the pieces featured here and want to incorporate some or all into your next home remodel, call Zieba Builders Inc. today at (562) 439-5294. Let's get started on your design.