Move Over Silver Stainless Steel, Make Way for Black Steel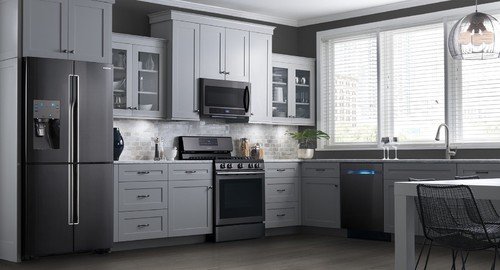 Sleek. Modern. Dramatic. Black has always been a go-to color in fashion and architecture, and it is quickly making its way into remodeling and interior design. Every year, the Zieba team attends design conferences and visits showrooms for inspiration and to educate ourselves on the latest industry trends and materials and this year we noticed that black steel is becoming a popular alternative to conventional stainless steel.
Imagine a kitchen with clean, white cabinetry with a gorgeous contrast of black matte stainless appliances. The less reflective finish brings a soft sophistication to the kitchen and is more resistant to fingerprints than conventional stainless, which is a bonus for families with children. Another option is to incorporate a few black stainless appliances with your silver stainless, which will work well for those who prefer a more traditional design aesthetic.
As we walked the International Builder's Show in Las Vegas earlier this year, black steel plumbing fixtures were shown by many luxury manufacturers including Brizo, Robern, and Kallista. A black fixture can bring out that natural tones in a granite or marble countertop or create focal point against lighter neutral tones. If you are looking for a design element that can really make a statement, you should consider a black showerhead or wall mounted faucet.

contemporary showerheads and body sprays
Black steel trimmed windows and doors create impactful and dramatic visuals. The thin black steel mullions make views pop and bring an industrial, yet modern aesthetic to a space. The trend is also making its way into our bathrooms with steel trimmed shower doors.