More building, less billing: Where to splurge, where to save
Setting budget for a home remodel (and sticking to it!) is one of the hardest tasks when it's time to renovate. You have all these ideas and wishes, from that luxurious bathtub, to shiny new appliances to elegant chandeliers, and want it all. Unfortunately, for most of us, going all in would almost certainly break the budget, and just like that you're facing the next dilemma: Where to save and what to splurge on? Here are some tips to get the most build for your buck!
Splurge here:
First, compile a wish- and priority list before the remodel. Start with the basics: plumbing, electricity and structure. These are things that aren't optional and is where quality matters most. You can have the most luxurious shower and high-tech toilet, but if your cheap plumbing needs repair every few months, you won't enjoy them, and the maintenance costs will eat all your initial savings. Prioritize functionality and longevity! After, focus on other permanent features you need or really want in your home. Woodwork (e.g. doors and windows) fall into this category, and if you've always been fantasizing about heated floors, now is the time to make that dream come true – Things that are hard, if not impossible, to upgrade should be done now. Splurge on items you expect to last long! 
Setting priorities for your home remodel is no one-size-fits-all affair. Base your decisions on what you like: If you love to cook, and do it frequently, it may make sense to invest in a professional range, but if you use your kitchen rather casually, this would be a prime opportunity to save. Make your house fit your needs by spending on what's important to you!
One thing you most definitely should not try to cut costs on are installation and the professionals you hire. Unless have a solid background in design and/or architecture, take a step back and let the pros handle this part. Imagine realizing mid-project that the floorplan is flawed, and you need to make costly readjustments to fix that. Same thing when it comes to building. Sure, you can try and DIY most of it, or cut labor costs by hiring the cheapest bid there is. But those short-term savings can turn into skyrocketing costs really fast when improper installation, rushed work and faulty materials cause problems down the road. A great general contractor can make a huge difference: Staying within the agreed budget, diligence and quality of work, trusted subcontractors and fruitful relationships with choice suppliers are some of the reasons to splurge here.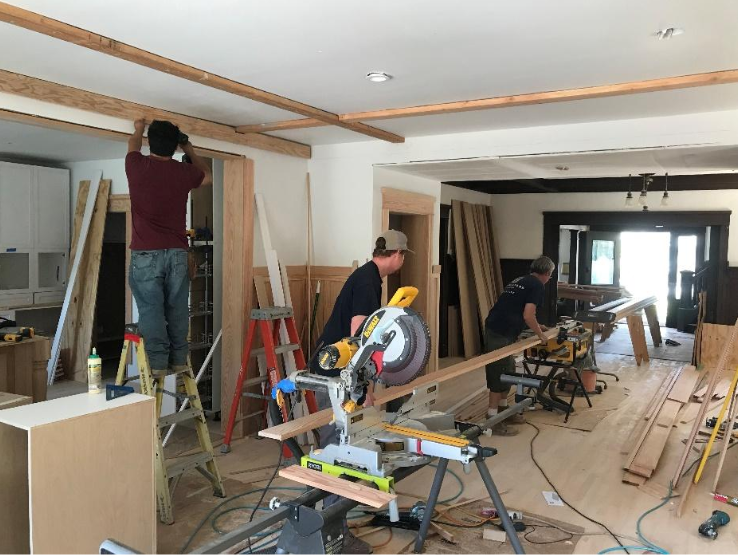 Things to save on:
Appliances are a great opportunity to make your budget fit your needs. You can always upgrade later easily, and they might not even last that long. For example, the lifespan of a refrigerator is about ten to fifteen years until it will need to be replaced, so keep that in mind when making decisions on appliances – especially if you're remodeling in phases. 
Which leads us to another trick: Spacing out your project over time has the advantage that you can spend most of your budget where it matters: Go all in on quality and fix the cosmetics later. Anything replaceable is a prime opportunity to slash your costs. You're eying those golden designer knobs and handles? Maybe the cheap ones from the local Home Depot will do for now – Changing them out down the road is easy. The same is true for lighting fixtures. But it doesn't stop here, even features like countertops or faucets can be upgraded another day. Save cash by using temporary placeholders! 
Finally, cabinets are another good way to save: Instead of having them entirely custom-built, you can always opt for stock bodies and have only the doors made for you. That way you get great functionality and the sleek, premium look for a price that fits your budget. Semi-customizing cabinets, vanities and closets are a great way to save while maintaining the look, feel and utility of luxury!
When trying to stick to a budget, the most important thing is knowing your priorities and getting them right! If you compromise on everything, you won't be happy and if you cut costs on the wrong end, chances are it's going to bite you in the future. Spend big on quality work, permanent features and what you're passionate about, and get good value placeholders for things you want to upgrade in the future. Your wallet will thank you!