Modern Farmhouse Kitchens – Ideas, Characteristics and Inspiration
Modern Farmhouse Kitchens – Ideas, Characteristics and Inspiration
Over the last few years, the country-inspired farmhouse style has taken over! Homeowners and designers alike are in love with the rustic, vintage and cozy vibes this popular trend exudes. However, there are numerous ways to create your own personal modern farmhouse look at home, ranging from layout over building to how you decorate your newly-built space. Here we will go over a few main characteristics that help you define your vision and bring it to life as your very own, gorgeous and inviting modern farmhouse kitchen!
The Basics
Having become sort of a buzzword, and with various quite different takes on the general concept, you may find yourself wondering what even defines a modern farmhouse design. First things first: No, you do not have to live on an actual farm or ranch (or even in a rural area) for this design to work. Its charming and welcoming aura feels right at home in almost any setting, be it an oceanfront mansion, inner-city condo, or suburban tract house. Traditional farmhouse optic has a primarily rustic, worn and antique look to it: Open shelving, lots of wood and shiplap, repurposed materials, exposed beams, painted cabinetry, and vintage appliances are just some of the many markers commonly associated with this style. The key to integrating this homely feel into a state-of-the-art, modern and exciting designer kitchen, is to combine prominent farmhouse elements, and combining them with other current industry trends into a wholesome masterpiece!
Key Elements
While "timeless white" has long been the industry-wide go-to, a modern farmhouse kitchen thrives on a palette that includes black and other dark accents, features wooden hues as flooring, countertops or cabinetry, and incorporates warm finishes like antique brass or copper. Rustic materials, such as brick and shiplap, offer a great opportunity to accent the charm in your kitchen. Take the ceiling, for example – Exposed beams are certain to convey country charm, and taken together with a shiplap ceiling, your remodel is guaranteed to set the farmhouse mood right away.
Choosing appliances and fixtures is lots of fun and provides you with numerous options to individualize your personal style while simultaneously building your farmhouse design: The ubiquitous apron-front sink is a staple of farmhouse kitchens and goes along beautifully with statement faucets. Another way to up the farmhouse feel are vintage appliances. There are various style configurations available that will form a charming retro ensemble and work wonders to create that wholesome at-home experience you are aspiring to. 
Since true-to-tradition farmhouse designs are often lacking overhead cabinetry, there is plenty of space to incorporate windows into the design and flood your kitchen with light! Not only will this create space and make your room seem bigger, but it even offers another opportunity to add a distinctly farmhouse feature: The windows themselves. Double-hung windows that are taller than they are wide are certain to upgrade your country vibes to the next level!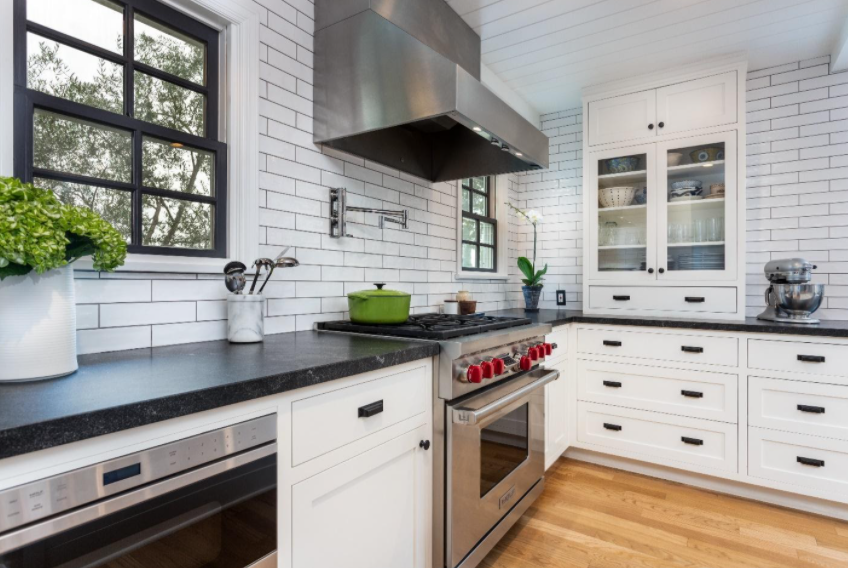 Tasteful open shelving can truly convey a rural ambiance, but in a modern and functional kitchen, shaker cabinetry is another amazing way to go! Painted to be contrasting the backsplash and countertops, and softly illuminated by strategically placed lighting, this wonderful woodwork will tie old and new together. Pendant lighting over the island are an outstanding opportunity to bolster your design, too!
Design Opportunities
Even the best-thought-out scheme, with the most exquisite materials and gorgeous fixtures, is nothing without a delicate interior design playing to its strengths. Ranch-style dark, heavy, wooden dining tables adjacent to the kitchen, an open concept great room with a cozy brick fireplace, exposed beams on the ceilings and interesting collections showcased as a focal point – there are plenty of decorating ideas that will play to your new modern farmhouse strengths!