"Green is the New Blue"
(Designed by @kelseyleighdesignco, Photography by @emilyhartphoto)
Living in Southern California it is no surprise that we gravitate towards a blue color scheme when designing our most important room of the house – the kitchen.  Beautiful sunny weather with blue skies and the Pacific Ocean right outside our front doors, blue creates a calm palette while adding some color that most will not get tired of over time.  The blue and white kitchen has almost become a staple for kitchen remodels in So-Cal, but we are here to tell you, green is the new blue.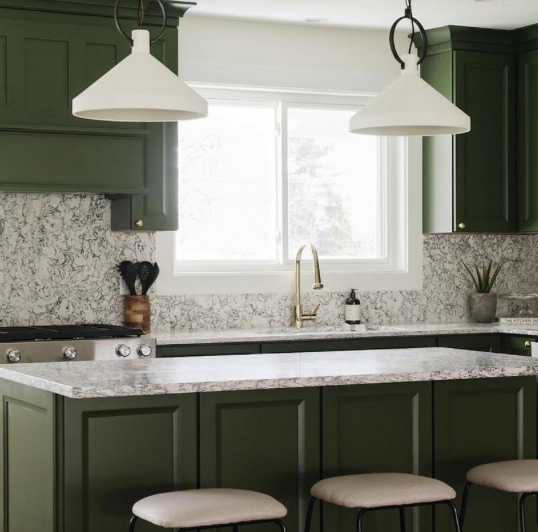 (Designed by @bishop.design, Photography by @sarahharnishphotography)
As designers we have long awaited the day where we have a client willing to go green.  However, it is not as scary as it seems!  When combined with natural wood elements, and neutral countertops and backsplashes, green cabinets can really stand out and be your "wow factor" when redesigning your kitchen.  And of course, there are a million hues of green to choose from for your liking, and at Zieba Builders we can help steer you in the right direction to fit your style.  It is all about balancing out the other materials happening in the same space so it is not too overwhelming, paired with how much natural lighting you get.
(Designed by @jaclynpetersdesign, Photography by @arianatennyson)
We've rounded up a few of our favorite green kitchens right now, as well as our favorite green shades to swoon over.  But the question is, will you be our next green kitchen project?
Our 3 Favorite Green Shades:
       "Jack Pine"
      (Benjamin Moor)
"Studio Green"
(Farrow & Ball)
"Foxhall Green"
(Sherwin Williams)