Beach House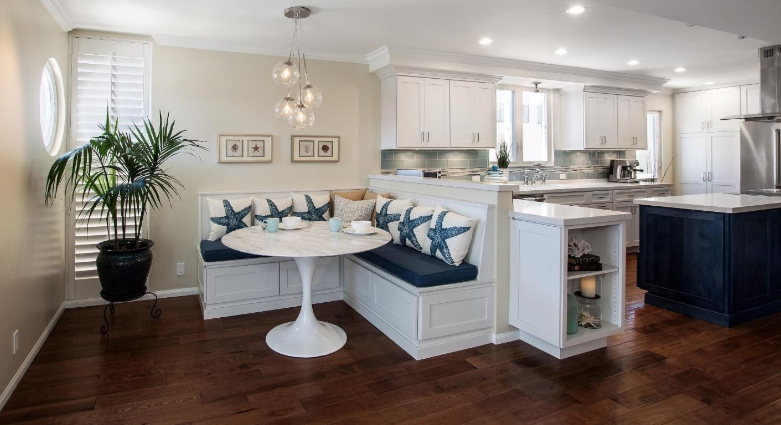 It's heating up, the sky is blue and the beaches are starting to fill up – Summer is finally arriving! If you spent as much time at home this spring as me, you probably can't wait to get out and get a tan, catch a wave, or craft the perfect s'more around a bonfire. No matter what, Southern California beaches are more than good vibes: They are a way of life. The best part? It doesn't take much to recreate that spirit at home — here is how to beach house! 
The path to your very own cozy beach house can roughly be divided into three sections:
Before you start building, decide on beachy architectural features that would be hard or even impossible to change later!
A lot of the summerly vibes stem from the basics: paint, interior materials, appliances and wall tiles. While not unchangeable, these are fairly labor-intensive tasks. Plan ahead!
No beach house would be complete without your personal touch. No matter if surfboards on the wall, seashells on the table or tiki-style woodwork in the yard – the options of customizing your beach retreat are almost limitless!
1 – The Basics
There are several ways you can set the mood while you're designing your remodel! Take note of the ocean's unstoppable tide and incorporate wave-inspired patterns into your design, or set your sail towards the open seas with ship-like round windows. Also, pay attention to functionality. For example, if you have beachfront access, a rooftop terrace is almost a must: There are very few things in this world that beat watching the sun set the sky on fire before slowly disappearing behind the horizon. 
2 – Building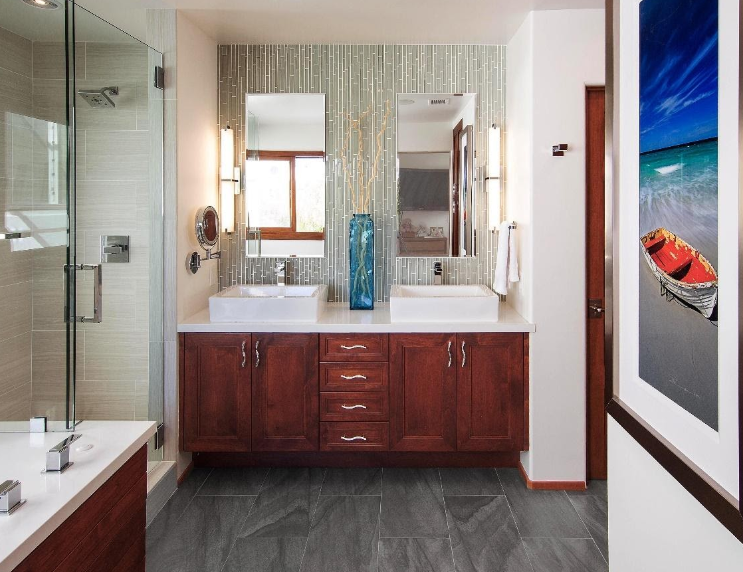 Once you got your layout and architectural design figured out, the most important part of your journey awaits: The details you determine while building will set the underlying theme and mood for the house. Here are some characteristics to watch out for:
Light colors. One common feature virtually every beach house shares is the bright color palette. Besides a dominant white, shades of turquoise, green and blue, as well as a driftwood-inspired, washed-out brown and shades of sand work wonders in creating that cozy mood.

Lots of light. Let life shine bright with lots of big windows!

No carpet flooring! Getting the sand out of there is the WORST!

Wood is good. Floors, islands, seating or the roof are great ways to incorporate Mama nature's preferred material!
3 – Decorating
Finishing up your beach house and adding your exclusive personal touch to it is probably the most satisfying part of it all – this is where your personality truly shines through. So what goes well with our sunny theme? This one is really up to personal taste, but classic options include surf boards, life savers, nautical maps, clam shells, beachy photos, tiki art, driftwood, artwork and so much more! Generally, the same principles apply as to step 2: a blue-green color palette, and wood as the main material generally fit in. Just as the beach, the most important thing is to be yourself, hang loose and flow freely!
For more inspiration, and/or to schedule your free professional consultation, call us now at (562) 439-5294