Backsplash Inspiration – Kitchen Wall Ideas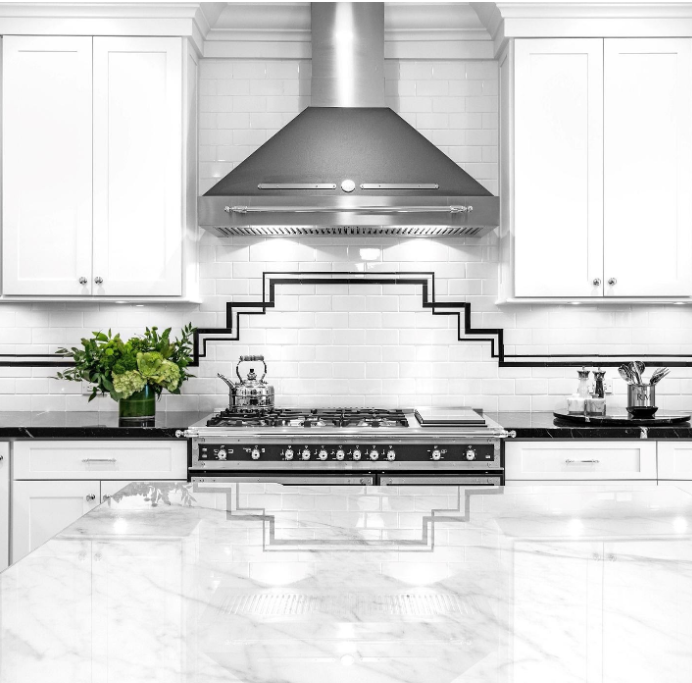 There is no better way for a subtle feature to make a huge impact than the backsplash. Integral to the ambiance, it can set the mood of the whole kitchen, create a focal point, showcase outrageous designs, or simply function as a custom, up-to-task utility. Versatile as it is, there are various factors to be taken into consideration before starting to build. Let's go over some Backsplash Basics!
Material Matters
Due to the unique requirements of a backsplash, not every material is suitable. Commonly, tiles of all shapes and sizes are to create the backsplash, with the familiar rectangular subway tile being the preferred option. However, another beautiful option is natural stone: Elegant marble, inviting limestone, unbreakable granite or jaw-dropping onyx are just some of the most popular natural stone alternatives available. Another material suited to be a proper backsplash is glass: A solid pane for a modern look, mosaic tiles or even mirrored – glass offers some more unusual options away from stone, and, as any engineered material, does not have to be sealed!
Supersize it!
When it comes to size, there are two main types of backsplash: standard and full. A standard backsplash generally measures four inches from the countertop, whereas a full one reaches at least the bottom of the upper cabinets – sometimes, it even extends all the way to the ceiling! This enables us to truly set the mood by filling the whole wall with interesting patterns, showcase a secondary design right behind the range, or create eye-catching visual effects by seamlessly blending a tiled backsplash into a more "barren" wall.
Color is King
It's been proven plenty of times that the color surrounding us can influence our emotions, productivity, and by extension our success. Your kitchen, the heart of your home, plays a central role in your daily life – the color scheme you choose for your backsplash can have greater implications than apparent at first glance. Set a sunny mood for your every day with bright and bold shades, pay homage to bygone days with an elegant antique design, or recreate a classic and timeless all-white kitchen: The options are limitless. 
Fancy Functionality
Your perfect backsplash depends on how you use your kitchen: Should you seldomly use your range, you can focus on the backsplash as a design statement; however, if you cook often, you will need better functionality. An awesome appliance to save you time and effort is a pot filler! This handy extra faucet is integrated into the backsplash and not only eliminates the need to walk back and forth to fill up pots and pans, but also adds character and an interesting touch to your overall kitchen design. 
Just like you, your home, and especially your kitchen, has its own personality and character. The backsplash is essential in connecting your elegant countertops, custom cabinetry, and carefully curated appliances into one seamlessly flowing masterpiece. For more information on this integral part of the heart of your home and more, call us now at (562) 439-5294!