A Basic Guide to Cabinetry
They are a focus of almost any remodel, and their production is one of the oldest existing professions in the world: Cabinets. Whether you are planning a kitchen remodel, a master suite, new bathroom, or even the addition of banquette seating in the living room, cabinetry is one of the most essential aspects to take into consideration. Not only can they set the tone and mood of the room, as an integrated part of your house, their significance cannot be overstated: Low quality cabinetry all but ensures costly and frequent maintenance work, starting soon after installation. And even if your cabinets are sturdy and solid, other aspects, like an impractical design, loss of love for their color, or lack of space can present themselves. It is therefore incredibly important to pay close attention to this integral piece of your project – not an easy feat, if you think about just how many options, finishes, layouts, designs, materials, functions and more there are. But worry not: Your friends at Zieba Builders happen to be highly qualified experts in fine cabinetry, and are happy to help you with yours!
Note: Cabinetry is a microcosm in and by itself. This is just a general overview of some of the most important aspects of this important topic, and in no way is this blog exhaustive. If you are a lover of all things cabinetry, stay tuned, because there will certainly be more blogs focusing on topics in the colorful cosmos of cabinetry!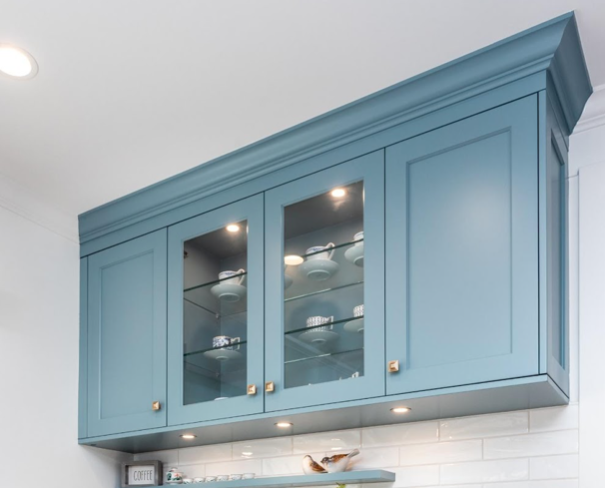 Function & Layout
Your habits and usage of the kitchen directly influence your cabinets. For example, if you barely cook, and typically host your friends in other parts of the house, it may make sense to drastically tone down your cabinetry game, and maybe even forgo overhead storage altogether. This will free up the room, make it seem bigger and brighter, as well as opens up the door to many intriguing style options. 
Cabinet Materials
Although there are more and more alternatives like thermofoil and laminate available, and contemporary designs sometimes incorporate metal, nothing can live up to hardwood cabinetry. They are the most durable and easy to maintain cabinets, and arguably have the best feel to them, as well as being the most elegant choice. Being a natural material, natural variations occur and make this an interesting material, and due to the various types of wood available, there is basically nothing you cannot do with hardwood cabinets. 
Cabinet Doors
Unlike books, cabinets are judged by their cover! As the most visible part – basically the face of your kitchen – cabinet doors play a huge role in shaping the design of your home. Just like there is an abundance of different architectural styles, there are various looks for cabinet doors. Most common are three general types and their variations: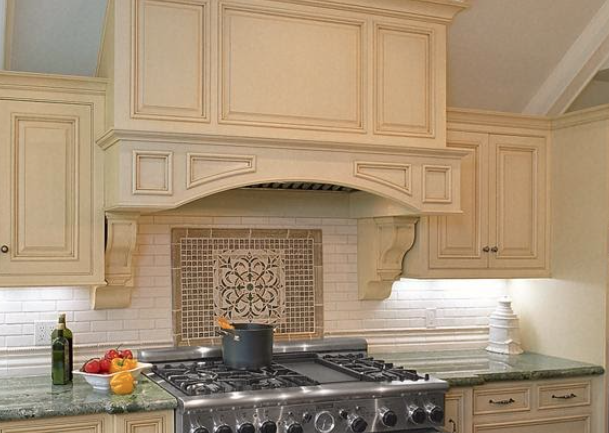 Raised-panel 
This style consists of a frame and, as the name suggests, a raised panel in the center. These raised panels can be artistic, ornate, or plain, depending on the style. Exuding an Old-worldy and cozy vibe, this type of cabinet door is great for traditional designs, and its variations are found in styles like Tuscan, Craftsman, and Victorian.
Recessed-panel
Similarly self-descriptive, this cabinetry style consists of a frame with a recessed panel in the middle. Everybody's favorite, Shaker cabinets, are a common example of this minimalistic and timeless design, but there are various other intriguing examples of recessed-panel cabinetry found in styles like Farmhouse, Transitional, and Country.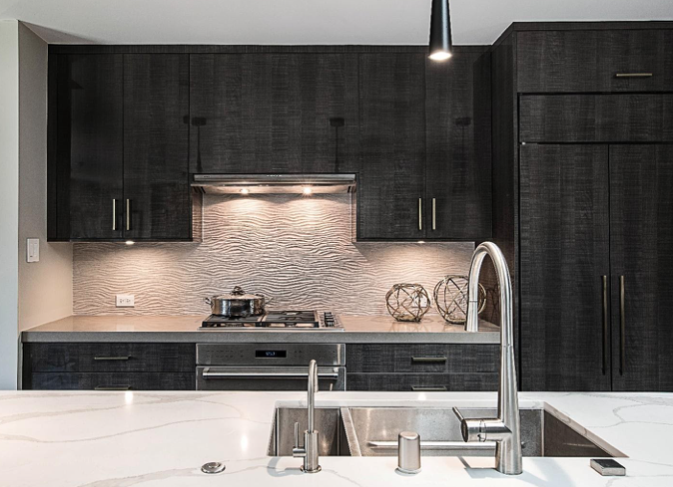 Contemporary 
Contemporary cabinet doors are marked primarily by the complete absence of any ornamental features, and their flat, even surface. This distinct style of cabinetry and its variations go well with architectural designs like Modern or Contemporary.
Open Shelving
A somewhat unorthodox alternative to the commonly utilized wall cabinetry is replacing it with open shelves! This is great if you do not have tons of dishes, utilities, and appliances to store, or value a certain style over function. It also does wonders to open up the space and make a small kitchen appear larger. This is generally found in styles like Industrial, Eclectic, and Country.
Miscellaneous
Glass
No matter which style you go for, a great way to add character to your kitchen, showcase collectibles, get creative with lighting, or make it appear more spacious, is to insert glass into parts of your cabinetry.
Paneled Appliances
The kitchen in this picture looks like there is no refrigerator. But the appearance is a lie! The fridge is simply hidden behind a layer of cabinetry. If you prefer a cohesive look uninterrupted by appliances, there is always the option to seamlessly integrate them into the overall look by "hiding" them in plain sight, and make them look like cabinets.
At Zieba Builders, we have decades of experience with all kinds and styles of fine cabinetry. For more information on our custom carpentry and what else we can do to transform your kitchen to the next level, do not hesitate to call us at 562-439-5294!